Become a Million Air
Thank you for your interest in joining the Million Air family of FBOs. The ultimate customer service experience takes flight when independent owners combine their entrepreneurial spirit under the Million Air trademark.
Million Air Interlink was founded in 1984 in Dallas, Texas where the first FBO (Fixed Base Operation), Million Air Dallas, successfully launched one of the most recognized brands in aviation. Today, Million Air has been providing outstanding FBO, charter and maintenance services for over 30 years, through a network of independently licensed FBOs. Million Air's dedication to selecting qualified locations, along with the strength of our FBO relationships, has been a key factor in the growth and the success of the brand. We remain committed to our Million Air FBOs and their dedication to excellence in the true entrepreneurial spirit.
Million Air continues to grow by seeking highly qualified FBO owner operators to join the Million Air family. Business and or public service experience, financial qualifications and a proven track record of success are important factors in the evaluation process of a prospective Million Air FBO particularly if the candidate has demonstrated successful ownership or management of an existing FBO.
The stringency of our standards comes from our commitment to our customers to assure that they will always receive outstanding service that is consistently delivered by all Million Air locations. We look forward to hearing from you to share our passion and your next steps to join the Million Air family of FBOs.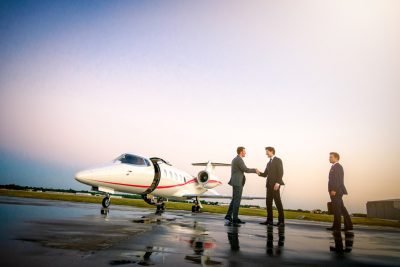 MILLION AIR'S UNIQUE ADVANTAGE
Million Air Headquarters has established the infrastructure that creates the growth, and maintains the brand image for our family of FBOs to enjoy both Product and Profit Dominance. We accomplish this by selecting quality locations, filtering for "Service Centric" employees and owners, providing superior training to all FBO facilities, maintaining integrity in the system through well-defined business controls, and ensuring that each Million Air customer consistently experiences supe­rior service while receiving exceptional value.
With more than 1,500 employees, over $300,000,000 invested and approximately $500,000,000 annual revenues and more than 800 aircraft within the leasehold of our facilities, we have set the stage for delivering award winning standards to the aviation industry. With more than 30 years of Fixed Base Operations experience, Million Air is uniquely qualified to design, develop and support you and your FBO while providing great benefits to the city, airport, and greater communities for all general and commercial aviation users of the airport.
Research indicates that 50% of our competition's customers are less than satisfied with the quality of service offered by other FBO chains (Aviation Resource Group – Denver, Colorado). Million Air Interlink currently receives approximately two new calls a week offering or suggesting new Million Air location opportunities. To take full advantage of this reality, Million Air strategically maintains its strong brand identity, stays close to its customers, and leverages the brand to keep "top of mind awareness' with every customer. These critical assets are tools are already in place.
In summary, Million Air has the following advantages over its competition.
Exceptional name recognition
Impeccable reputation
Proven track record
Superior customer service
Exceptional internal growth disciplines
Cost reduction programs
Decision Science Tools for top line growth and site selection
MILLION AIR SUCCESS
Million Air brings a successful record in FBO operations. The network has seen unprecedented top line revenue growth all the while combining purchasing power for substantial cost cutting strategies Strengthened management and an emphasis on product quality and customer relationships have proven to be a winning and sustainable business strategy for both profits and growth.
Through Million Air's exceptional track record for starting and developing FBO's, we believe in our ability to grow and develop any new location. The Million Air name identifies an FBO as a first-class luxury facility providing outstanding customer service. Customers come to Million Air FBOs because of the look and feel of the facility and the special way they are treated with a performance staged for their benefit. Our exceptional reputation is safeguarded by our consistent outstanding product and service. This helps assure the continued strength of Million Air and the reputation we have earned.
Today, Million Air succeeds at servicing more than 1 million aircraft movements and 25 million passenger movements to business, general aviation and commercial aircraft each year Million Air's award winning programs continues to succeed by developing innovative approaches of providing outstanding customer service while maintaining a loyal customer base delivered by our most precious resource, our employees. Million Air's high quality service standards, at the world's leading commercial and general aviation airports, makes Million Air one of the largest and most respected names in FBO service industry. Driven by a shared passion, Million Air's powerful, positive culture is a product of the love of aviation shared by our families of FBOs, our employees, our owners and our guests. Million Air was founded and built by people who sense the excitement in every takeoff and landing, whose ideal surroundings include the sights, sounds, and smells of aviation. The inspiration and driving force behind Million Air is in the genuine passion for aviation and all things related to it.